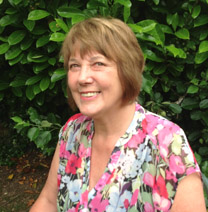 About me
I founded The Clay and Glass Studio, at Wagon Yard, London Rd, Marlborough, shortly after completing the Ceramics with Glass BA Course at High Wycombe in 1998.
I moved to Ogbourne St. George in 2001 and established The Glass Studio,where I teach and exhibit my work.
My passion is to create unique and individual glass art and I have been described as "a glass designer and maker of distinctive kiln-formed and stained glass, creating stunning glass forms that are both functional and decorative".
I use a variety of glass making techniques: hot glass, kiln-formed glass, stained glass, and all the methods used in glass making. Having learnt them, I now enjoy passing on my experience to others.
I run glass workshops and weekly classes for beginners and teach intermediate students in my studios throughout the year.
In addition I am a regular tutor at the Marlborough College Summer School during July and early August. Details of that course may be found here.
I was interviewed recently by Marlborough Town and Country magazine, here is the article.

My work is on permanent display; Jeannette Therrien's Glass Studio at Ogbourne St. George and can be viewed by appointment. Please see Contact page for details.
I regularly exhibit my work at
The Clay and Print Studio, London Rd, Marlborough, Wiltshire, SN8 1LH. Open on Saturdays.


Wagon Yard Artists Christmas Fair
Weekends of 30th Nov/1st Dec and 7th/8th Dec
Glass, Ceramics, Paintings, Prints, Cards, Jewellery and Christmas decorations.
We would love to see you at our private view party on:
Friday 29th November, 6-9pm.
Join us for mince pies and mulled wine.
We hope you can make it.
Jacqui Melhuish, Jeannette Therrien, Colin Palmer, Mary Thorne, Kate Wade and Jane Renwick.