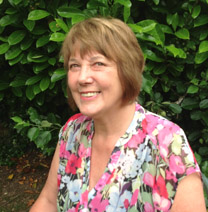 About me
I founded The Clay and Glass Studio, at Wagon Yard, London Rd, Marlborough, shortly after completing the Ceramics with Glass BA Course at High Wycombe in 1998.
I moved to Ogbourne St. George in 2001 and established The Glass Studio,where I teach and exhibit my work.
My passion is to create unique and individual glass art and I have been described as "a glass designer and maker of distinctive kiln-formed and stained glass, creating stunning glass forms that are both functional and decorative".
I use a variety of glass making techniques: hot glass, kiln-formed glass, stained glass, and all the methods used in glass making. Having learnt them, I now enjoy passing on my experience to others.
I run glass workshops and weekly classes for beginners and teach intermediate students in my studios throughout the year.
In addition I am a regular tutor at the Marlborough College Summer School during July and early August. Details of that course may be found here.
I was interviewed recently by Marlborough Town and Country magazine, here is the article.

My work is on permanent display; Jeannette Therrien's Glass Studio at Ogbourne St. George and can be viewed by appointment. Please see Contact page for details.
I regularly exhibit my work at
The Clay and Print Studio, London Rd, Marlborough, Wiltshire, SN8 1LH. Open on Saturdays.
Wagon Yard Artist Christmas exhibition. 
Weekends of 30th November/1st December
and 7th/8th December
Avebury Manor Garden Exhibition Once again the sculpture exhibition is adding an extra dimension to the garden. From 7 Sept until 13 Oct this outdoor art exhibition will inspire you at every turn.
The sculpture exhibition in the garden has already become a well established event, with people eagerly awaiting the chance to see what works of art can be found in amongst the shrubbery, pathways and hidden spaces this year.
As you wander around the garden you'll see the work of 24 different artists, most exhibiting several pieces and each unique in their own way. They're inspired by nature, history and the human form - all displayed with the perfect backdrop of this beautiful and tranquil garden.
Senior Visitor Experience Officer, Hazel Barry-Scott says "This is the fourth year we've run the exhibition and this year we have artists who've shown their work here before as well as artists exhibiting here for the first time. It's such an exciting time of the year for us, both the visitors and the staff love it, it gives a fantastic added dimension to the garden – and most of the exhibits are for sale if you want one for your home."
The exhibition is free with entry to Avebury Manor and Garden.