Workshops at the Clay and Glass Studio
Workshop dates for 2022: - please be in touch, we can arrange a day.
Kiln Formed Glass  Workshop -  £160
The workshop will offer a wonderful introduction to Kiln Formed glass, using Bullseye transparent, opal and iridescent glass.
You will gain an understanding of the materials, techniques and processes involved while producing your own piece. Using sheet glass, frits, stringers and wire, you will be shown how to cut glass, add inclusions to create some coasters plate or a panel. You shall also make some jewellery using Dichroic glass. No previous experience is necessary, just enthusiasm!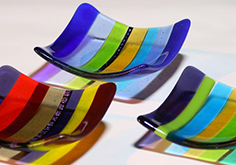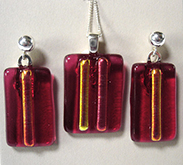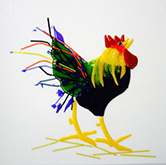 Stained Glass Workshop - Leading or Foiling Technique - £125
This workshop introduces the traditional craft of stained glass making, giving you the confidence to create a stained glass panel or 'light catcher' from scratch. Or make something decorative for your house or garden? Make a  light catchers and hangings using the copper-foiling method.
No previous experience is required as you will cover glass cutting, making patterns, stretching and shaping lead came, soldering techniques, cementing and polishing during the day.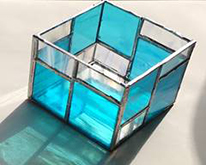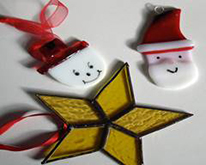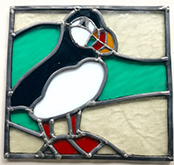 You will only need to bring a sturdy pair of shoes, as all materials, glass, tools and safety equipment are provided. We also supply refreshments and lunch is included.
For students wishing to use the Studio and use their own Materials the cost would be £80 for the day.
To book a workshop or the Studio please send a £20 deposit to Jeannette Therrien, Grey Gables, Liddiard Green, Ogbourne St. George, Marlborough, Wilts, SN8 1SL jet@jeannettetherrien.com
Weekly Class starting the 20th Sept until Dec. Tuesday evening / Wed. & Thursday morning.